Sir Jackpot Casino Review 2022
Sir jackpot casino is a popular online gaming site formed by a small group of players with a passion for jackpots. It has a very distinctive green and white logo, with the character sir jackpot portrayed on a chip.
The site was launched in 2015 after the founders had spent years looking for sites with all the best jackpots in one casino.
After fruitless searches with hours of frustration they decided to set up their own site. They wanted to share their passion and enthusiasm with other online gamblers, making it easy for them to find the best jackpots.
Jackpots are simply pools of money that increase in value each time games are lost. Huge accumulations of cash can result in 6 figure payouts.
Pooled jackpot games are available at sir jackpot. They include Hall of gods. This is a progressive jackpot with the potential to win hundreds of thousands of euros. The jackpot builds up across any Netent casino that offers this game.
The Hall of goods Mega jackpot has paid out over 7 million euros in recent times. Just think what you could do with all that money.
Local jackpots can also be very lucrative. These are jackpots from the same casino. The payouts can still be large, but not on the same scale as pooled jackpots.
Sir jackpot also created Live lounge for lovers of live casino.
The owner of sir jackpot has been in the gaming industry since 2012, and the site content is available in a selection of languages including English and Swedish.
The casino software is powered by Netent and Play'n Go. When it comes to mobile gambling, Netent is the leader. They were the first to launch a truly mobile live casino platform, and have gone from strength to strength.
Netent were awarded best innovators in mobile at the EGR B2B awards 2018. The developer is passionate about creating software that gamers want, and this is what drives their success.
The company is owned by Berthard Group ltd which operates under Maltese laws. The company is made up of a large group of gamers who are dedicated to creating the absolute best gaming products and services.
Sir jackpot supports English, Finnish, Norwegian and Swedish languages. Currencies allowed are Euro, Norwegian Kroner and Swedish Kroner.
Payment
There are several ways you can transfer money into the casino including e-wallet, credit/debit cards, skrill, or bank transfer. You can also use pay safe card and trustly.
Paysafe cards can be obtained online, or at various petrol stations and convenience stores. They're a pre-payment card that can be topped up to fund your gaming expenses.
Withdrawing money is fast as sir jackpot claim to deposit money in your bank within 2-3 business days. There is no charge and winnings can quickly be deposited in your gaming account using Trustly.
You have to make sure your account is verified first as you'll need to do this before money can be transferred. You're guided through the whole process so it should be very easy.
How do you create an account?
First of all you must be over 18 years of age to create an account with sir jackpot. You also have to live in one of the supported countries. These are Sweden, Norway, Austria, Canada, Malta, Slovenia, Croatia, Germany, Netherlands, Iceland, Finland and Luxembourg.
Registration is easy as you simply fill in an online form choosing a username and password.
If you decide you want to terminate your account with sir jackpot you have to contact customer support either via email or chat. You could alternatively opt for self exclusion for a specified amount of time.
This is a great option for those addicted to gambling as it can stop you overspending. Restrict your account during times you find hard to control your gaming habit so you know you're safe.
Welcome bonuses including terms and conditions
As soon as you join you're given 150 free spins. These spins are credited in increments of 10 during the first 15 days after you register. Free spins can be used on joker pro, starburst, fairytale legends, pays, or Shangri-lacluster.
If you win on any of the free spins your winnings are subject to placing a wager 50 times greater than the sum you win. For example, if you win 15 euro you'd be required to wager a bet of 750 euro before being allowed to withdraw any of your winnings.
Maximum withdrawal amount from no deposit free spins is 50 euro. You have a limit of 5 euro while using your free spins to wager bets.
You have 24 hours to use any winnings from your free spins. If you go over that time they will be forfeited.
You can also claim a 200% bonus up to the value of 100 euro with your first deposit. You must however, place a minimum deposit of 10 euros in order to claim it.
In order to claim your bonus you must reside in one of the following countries: Finland, Austria, Norway, Sweden, Switzerland, Germany, or Malta. You must also play with 150 euro to claim your registration bonus.
Sir jackpot free spins and bonuses
As well as welcome bonuses, Sir jackpot has a new no deposit casino bonus of 50 free spins. This latest bonus is available in 4 Netent games on the site. You can frequently find sir jackpot bonus codes online that you can use on the site.
Sir Jackpot casino app
Sir jackpot has a very well designed mobile app that's easy to use. The graphics are beautiful and very clear to read. Many mobile users comment on how user friendly the app is, and that it's preferable to using the desktop version.
The sir jackpot app can be used on most mobile devices including Android and iphone. This makes playing easily accessible when you're on the road or bored at work.
There may be plenty of times during a train journey or when you're on a bus that you desire a quick game. Having a mobile app that's user friendly makes all the difference.
Sir jackpot can also be accessed on Windows smart phones. This is a big plus for the popular gaming site. Windows has gained popularity in the smartphone market, so it makes sense for sir jackpot to include it in their gaming apps.
Sir jackpot use Net Entertainment software for their instant play games. NetEnt are one of the top providers for online gaming casinos. They've been in business for over 20 years, and have a passion for online entertaining.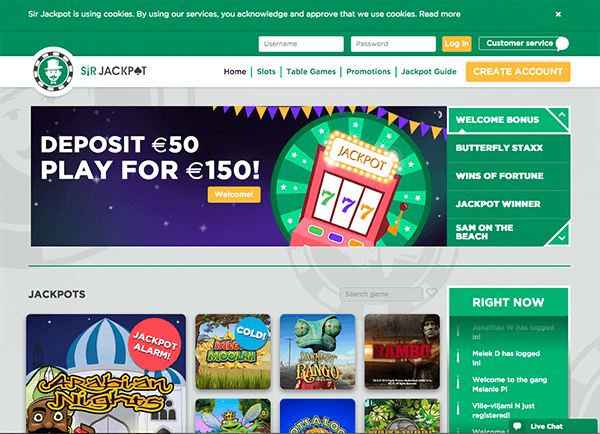 Jackpots
Sir jackpot know everything you need to know about jackpots as it's their passion. They have a jackpot alarm to alert you to the best jackpots available.
You're advised on what jackpots to play and when you should play them. You can find a good selection of jackpot games with bright colourful graphics and the option of disabling sound.
You can try them out with demo credits first before spending money. Jackpot games include Hall of gods.
Gods, including Thor and Idun fill the reels. You can also find ancient symbols and rings.
Ozwin's jackpots. Brightly coloured mystic images fill the reels including crystals, and Ozwin the wizard.
Jackpot 6000 looks like a traditional fruit machine. Brightly coloured fruits fill the reels, making it feel as if you're playing on a real slot machine.
Arabian nights is set against the backdrop of an Arabian desert. Camels, tents, mosaic numbers and other Arabian night images fill the reels.
Power force heroes. Colourful graphics depicting power force hero characters fill the reels including wilds.
Some of the jackpot games can't be found if you click on them, but as there are plenty to choose from anyway this shouldn't put you off.
Mega fortune is set against an attractive tropical paradise background. The reels are filled with symbols of wealth including luxury limos, champagne bottles, and rings. Mega fortune is a pooled jackpot game with payouts frequently over a million euros.
Video slots
Sir jackpot has a selection of video slot games, powered by Netent. They include;
Birds on a wire. This is a fun and quirky game. Colourful animated birds make this game great fun to play. Try it first with demo credits.
Warlords Crystals of Power. Beautiful introductory video features a wolf with a crystal in it's mouth and a warlord.
The game is based on a time long ago when war and pillaging was rife among rulers. It centers around 3 remaining rulers, The priestess, the samurai, and the barbarian.
They fight each other for all the riches of the land, gaining power. Free spins are available.
Motorhead is based on the band. A lively introduction to this video slot game features the band playing on stage.
The game is set against a stage background. Reels are filled with symbols associated with the band and the genre of rock music.
They include cherries, deon heads, iron bells, copper coloured stars, four leaf clovers and Lemmy. Wilds are also featured, as well as free scatters and additional free spins.
Bingo
If you like bingo you'll be pleased to hear that sir jackpot has several bingo games available. Bingo billions and bingo bonanza offer stunning graphics as well as big prizes.
Sound effects and colourful graphics make playing Sir Jackpot bingo fun and addictive.
Online bingo has become hugely popular as players don't need to leave the comfort of their home. You can easily fit in a quick game of bingo during your lunch break or during a quiet time at work.
Poker
Poker is available on sir jackpot in the form of video games. These are all based on a 5 card draw, and include
Deuces Wild, Jacks Or Better, Joker Wild, All Americans'
Joker Poker, Red Dog, and Aces & Faces.

Slot games
Sir jackpot has an impressive portfolio of slot games including Foxin Wins-Football fever. This fun, compelling game features a fox and a leprechaun.
A pot of gold is used as a scatter, and up to 10 free spins can be won if at least 3 pots of golden coins are displayed on the reels.
Secrets Of Nefertiti. This game takes it's name from the ancient queen of Egypt.
It takes place inside an Egyptian temple, and displays graphics of two royal ladies with torches guarding playing reels.
Free spins are available with 3 or more scatters. You have a choice of 3 different spin packages. The first has 15 free spins with a 2 times multiplier.
The second package offers 10 free spins with a 3 times multiplier. Lastly, the third package offers 5 free spins with a 5 times multiplier.
Roulette
Roulette games are available with attractive graphics and music playing in the background. The games are powered by Netent and include;
American Roulette. This game has an attractive roulette wheel that spins at the top of the video. You can play with demo credits to get a feel of the game.
French roulette. In this game the roulette wheel sits on the right hand side of the video. Stacks of colored chips surround the wheel. There is a 10 euro minimum and 5,000 euro maximum bet for this game.
European roulette has the roulette wheel on the left side of the video, with a green roulette table. A stack of green chips sits next to roulette wheel.
Multi Wheel Roulette has 8 roulette wheels, and you click on each one to enter. Clicking on a chip activates it. Then, clicking on a number on the roulette table, the selected chip flies onto it. Soft jazz music plays in the background adding ambience to the game.
Black Jack
Sir jackpot has a good selection of Black Jack games. They all have attractive graphics with sound effects.
Demo credits are available. This is a great feature in all games as it allows you to try them out first.
Black Jack Games include Lucky Ladies. The game is played on a purple table with the dealer sitting at the top. Piles of chips are lined up at the bottom of the table ready to select for playing.
You place your bets and click on the deal button. You also have the option of placing side bets. The cards are dealt. Other Black Jack games include Suit 'em up,
Single Deck, and Classic.
Live casino
You can enter a live casino at sir jackpot giving you the excitement and feel of a real casino without leaving your home.
Though not obvious on the site, once you find it you'll discover over 70 live dealer tables. There are 41 blackjack tables, as well as 3 poker tables and a baccarat table.
The only language spoken in the live casinos is English even though the site is available in several non English speaking languages. The only exception is a native live roulette table with a croupier who speaks Dutch.
Live casino games include Caribbean stud poker and Casino Hold 'em
The games are played in a casino based in Malta. You can usually speak to the croupier via chat with any questions you may want to ask. You take a seat at the roulette table making it feel even more like being inside a casino. Even tipping the croupier is welcomed!
You usually need to place a minimum of 1 euro per round, and if you're lucky and win, the amount is instantly deposited into you're gaming account. This is a big plus as seeing instant wins and deposits encourages you to play.
Responsible gaming
Sir jackpot encourages responsible gaming and provides tools to help gamers stick to their limits. This includes an option to place a limitation on deposits
Gaming can easily become an addiction, with the potential to lose a lot of money. As long as it remains a fun hobby and you only spend what you can afford to lose you'll be ok.
A good tip is to set aside money each week that you can afford to lose. Add some of your winnings, no matter how small. Use this funding just for betting, and never be tempted to dip into your savings.
Affiliate Program
Sir jackpot offer an affiliate program with very generous commissions. They are partnered with livelounge and offer a 35% lifetime commission.
They guarantee a fast and efficient payout and money is paid into your bank account on the 15th of every month via bank transfer.
The sir jackpot affiliate program has a manager on hand to help with any queries you may have. You don't need to have a website to be accepted as there are plenty of ways to drive traffic to affiliate links including social media.
Gaming is a big industry and you could make a lot of money as an affiliate for sir jackpot. The site is very user friendly which makes it easier to attract new customers.
Contacting the casino
If for any reason you need to contact the casino you'll find a live chat service available on the site. Simply select your language and type your query in the chatbox. There is no phone support, but you shouldn't need that anyway with chat.
This service offers 24 hour support, so no matter what time of day or night you need help, there will always be someone available.
Pros
The main advantage of sir jackpot is the large number of jackpot games available in this online casino. If you prefer to play with just one online casino then this may be a good choice.
Generous welcome bonuses. This is a big plus, though you will need to carefully read the terms and conditions for using them.
You get 150 free spins on registration. This is a big plus
Free spins every Tuesday for existing customers
Players who login at 4.00pm every Thursday will get 10 free spins available on the Legend of Shangri-La Cluster
Saturday treats for existing customers with 10 free spins on every deposit. These can be used on NetEnt's Aloha! Cluster pays
Sir jackpot pays out over 5 million euro every month in prize money. This makes playing very exciting as you never know, you could be the next big winner.
Generous affiliate program. This is great news if you own a gaming blog or have a lot of gambling followers on social media.
24 hour customer support
VIP manager support for high spending gamers. This rewards those that stick to one casino site and aren't afraid to spend.
Pooled jackpot games. This gives you a greater chance of winning large amounts of cash.
Mobile friendly site. Great for when you're traveling and want a quick spin on one of the roulette games, or a game of poker.
Jackpot guide. This is a very unique feature that alerts you to the best jackpots. It has regular updates and alarms so you never miss out on a good jackpot.
Good portfolio of slot machines. Colourful graphics and easy to understand instructions make the slot games a pleasure to use.
Cons
Limitation on the number of countries who can join. If you live in the UK you will be excluded.
No telephone support, but most issues can be resolved via chat or email.
Conclusion
So to sum up my review, I can recommend sir jackpot if you live in one of the supported countries. They appear to very trustworthy and adhere to some of the strictest laws.
There are many other online casinos offering competitive bonuses for new players, but sir jackpot has some of the best jackpots available with the potential to win huge payouts.
With such a large selection of games you'll never get bored. If you tend to overspend on betting, the option to place limitations, as well as self exclude for a period of time is a welcomed feature.
Visit Now