Multilotto Casino Review 2022
Multilotto.com, an international betting service focused particularly on lotteries, was founded in 2010, releasing a closed beta version in the summer of 2011. After a successful beta period, the site was officially launched early in 2012.
Multilotto allows its members to bet on the outcomes lotteries from all around the world from their own homes, including big hitters like Euromillions and Powerball. Since they offer bets on all kinds of lotteries globally, there's always something going on if you're looking for a one-time bet, but if you want to set up something more regular, Multilotto allows you to subscribe to your lucky numbers, put together a lotto system of your own design, or create syndicates to share the cost and the winnings with friends and family.
Although the site is lottery-based, it does not allow you to directly participate in the lotteries offered. Instead, the site lets you place bets on the outcome of each lottery. This means that you can indirectly participate in lotteries from all around the world, for which you might otherwise not be eligible. No money is paid out to the lottery itself, instead remaining in the Multilotto system. Although this can be confusing, the process is essentially the same as if you were playing an ordinary lottery. You still choose your numbers, and the odds of those numbers coming up are the same as in the main lottery, because it's based on the same draw.
Although lotteries are the site's main focus, there's also a range of casino-style games to enjoy, including roulette, slots, black jack, baccarat and poker. If you're looking for table games in particular, bear in mind that due to the differences in gambling laws between countries, not every game is available to every user. Users in the UK in particular may find that they are unable to play certain games.
Multilotto is fully licensed, authorised and regulated by the Government of Curacao. It operates under License No. 1668/JAZ issued to Curacao eGaming (Cyberluck Curacao N.V.)
Accessing Multilotto
The website is available in English, German, Spanish, Italian, Hungarian, Norwegian, Polish, Portuguese, Serbo-Croatian, Finnish, Swedish, Tagalog, Turkish, Greek, Ukrainian and Chinese.
The currencies supported are Great British pounds, Australian dollars, Brazilian Real, Bitcoin, Canadian dollars, Euros, Hungarian forints, Norwegian kroner, Polish zloty, Romania Leu, Swedish krona, Turkish lira, Ukrainian hryvnia and United States dollars.
Multilotto's site is well optimised for mobile and looks appealing on the smaller screen, with the most essential elements clearly visible on the homepage, as well as an intuitive and straightforward pop-up menu. The mobile version of the site has an occasional tendency to stick when you try to reach the very bottom of a menu, but going back a step and then returning tends to resolve the issue.
There is also an app which allows users access to the same kinds of lotteries and casino games available on the main website, although not all of the same games are available. The app is available on Apple and Android devices, and is easy to download. You can find it in the app store on your phone, or you can follow the green App link on the bottom left of the desktop site, which will take you to a page with a QR code to scan. Then you can sit back while it does the work for you. There's also a 100% deposit bonus on offer for your first use of the app (although there are minimum and maximum limits applicable.)
Unfortunately, Multilotto is currently not available to residents of the US, as well as a handful of other countries. Residents of most countries can enjoy the site, although not all games are available in all territories. For example, baccarat, black jack, poker and certain roulette games are not available in the UK, although UK users can still play the main lottery offerings and a wide range of slot games.
Joining and Leaving Multilotto
Signup to the site is via a simple form which asks for a few pieces of personal information, like your name, email address, street address and the currency you use.
Should you encounter any issues, the Support button near the top left of the screen (Or the Contact Us button at the bottom of the menu in the mobile version) takes you to a page listing the email address of the support team – support@multilotto.com. Additionally, this page gives you easy access to the FAQ and the Terms and Conditions, in case there's anything there that's helpful in resolving your question. There is no live chat, phone support or any other instant way to get in touch with the support team, but email response times are generally fairly quick.
You can close your account whenever you want by sending an email to the support team. They will guide you through the process and confirm that your account has been fully terminated.
Multilotto's Software
Multilotto's software is up-to-date and mobile-ready. The lottery section of the site is playable without any downloads or special software. Everything you need is accessible through your browser. In the casino section of the site, there are games available from other top providers such as Quickspin, Yggdrasil Gaming, Playson, Quickspin, NetEnt, Play'n GO and Red Rake Gaming.
Reliability and Safety
Multilotto use SSL encryption to ensure that all sensitive information is protected, and take the absolute minimum of data they need from users in order to safeguard them as much as possible.
The casino games available on the site are audited regularly by independent auditing services not affiliated with the site, in order to ensure that they are always fair.
The site has a rating of 8.2 on the customer review site TrustPilot.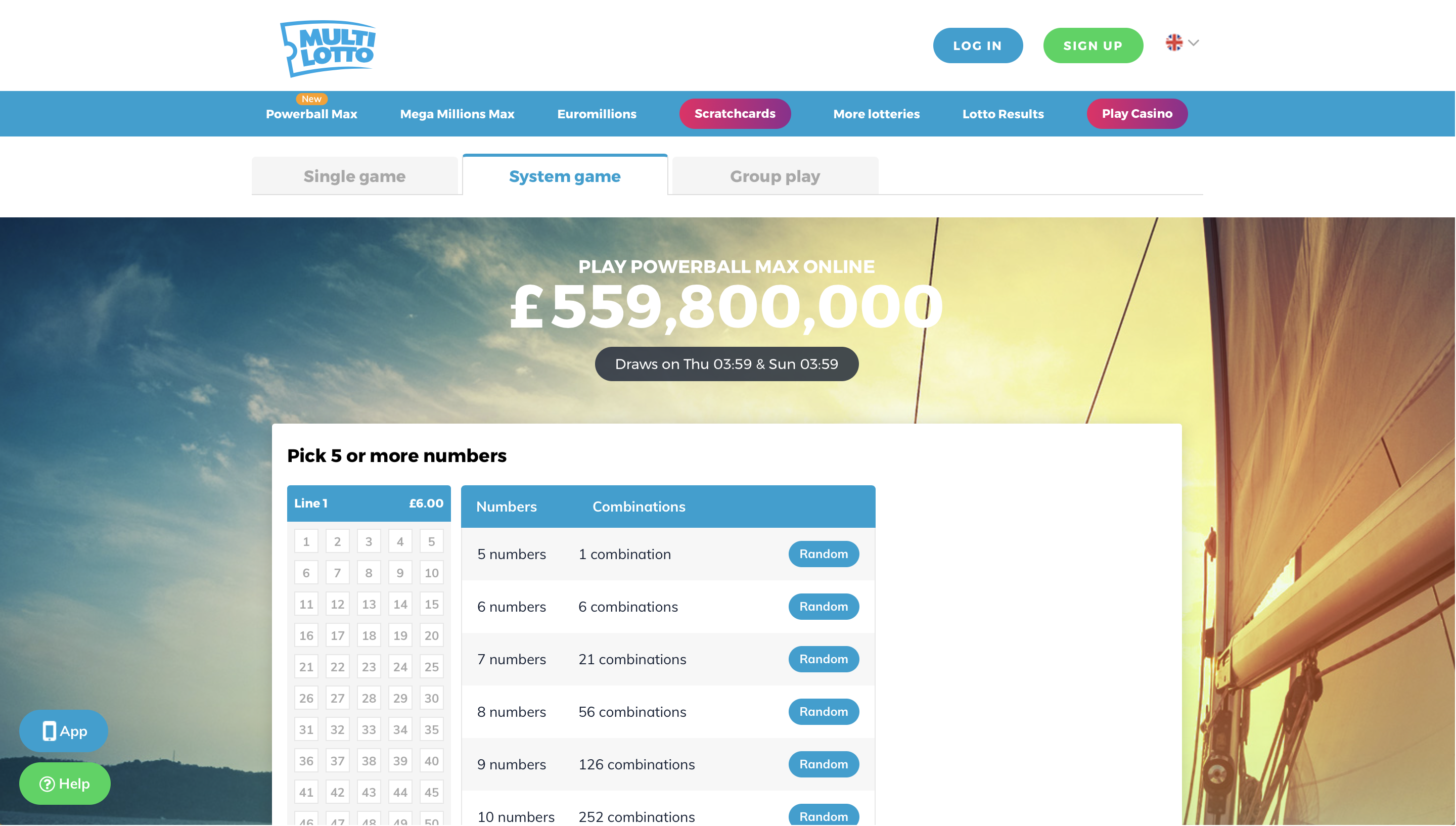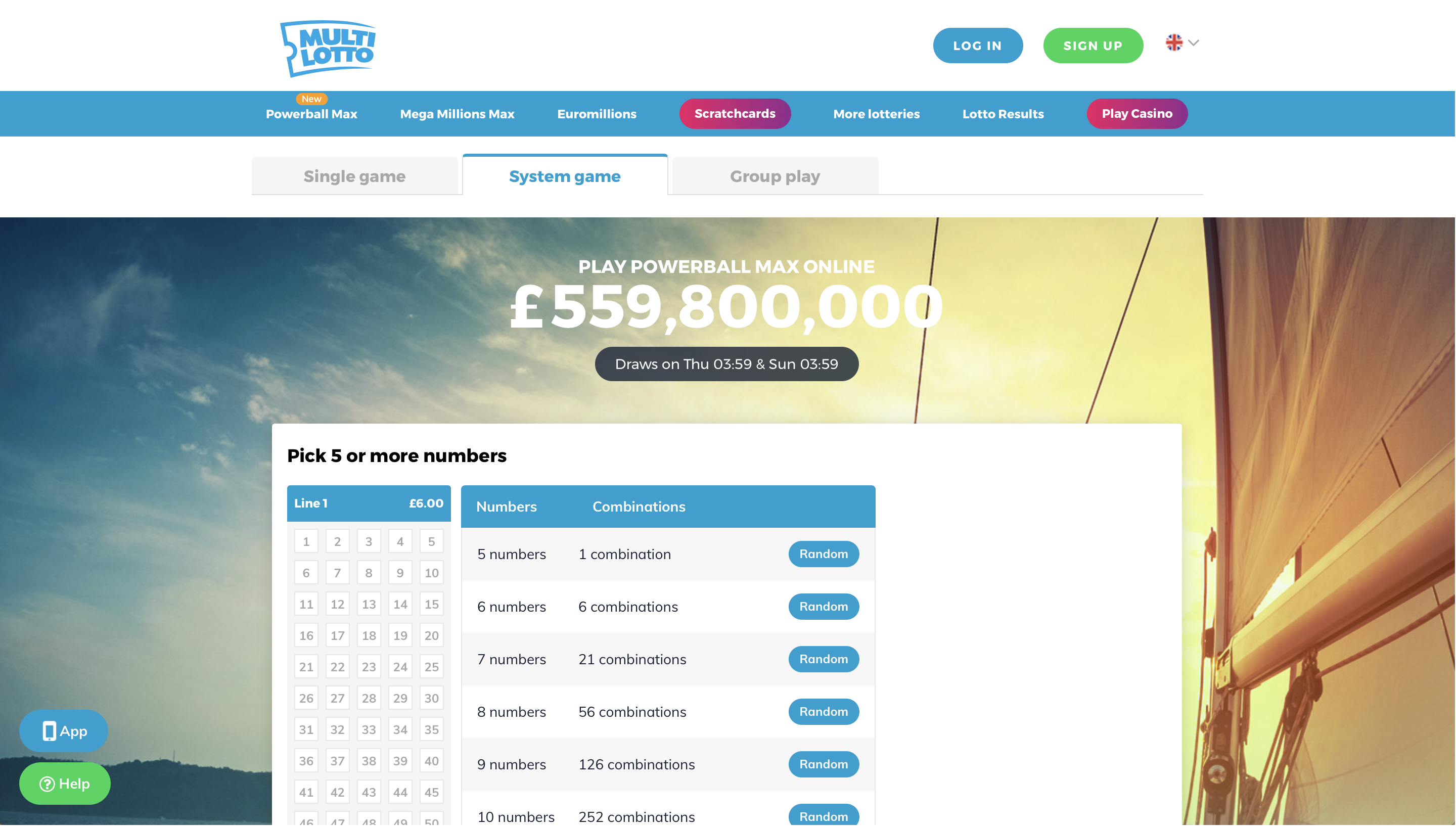 Games Available
Lotteries
Lottery betting is the centrepiece of Multilotto's offering. There are dozens of different lotteries to choose from, from large and well-known draws like EuroMillions, Powerball and Mega Millions to ones with more modest prizes, like Mini Lotto and La Primitiva. The site makes it easy to find what you want by letting you sort alphabetically, by size of jackpot, or by closing soonest. Each lottery's playing page is straightforward to use and lists the chances of winning clearly.
The entry prices for playing the various lotteries are competitive – Multilotto never charge more than you would pay if you were actually entering the official lottery. They also offer subscription packages which can lead to good discounts if you are planning to play regularly.
Slot Machines
There are hundreds of different slot machine games to choose from on Multilotto.com, on a variety of themes. For TV and movie fans, there are slot machines based on big franchises like Jurassic Park, Game of Thrones, Highlander and Terminator. For a relaxing experience try Sugar Trail, Jewel Blast or Forest Fairies, or if you're in a more adventurous mood, give Space Lights, Vikings Go Wild or Rampage Riches a go. With such a wide range, you'll never get bored if you're a slots fan.
All of Multilotto's slots games can be played right in the browser, so there's no need to download anything extra or make any preparations. Plus, if you'd like to get a feel for any of the games before you start, they can all be played in Try It Out mode, so you can experience the game for free before playing with real money.
The exact rules vary from game to game, but some things are the same across the board. Coin values are in Euros, and you can decide both what value of coin to play and how many. Most games have bonus rounds and free spins, and some have other chances to add to your winnings, so keep your eyes open.
Table Games
Multilotto has several electronic roulette options, including European Roulette, European Roulette Pro, English Roulette and French Roulette. Most of these are also available as La Partage games. There are also more than a dozen live roulette games of various types, although not all of them are operating at all times of day. Each game has its playing times clearly visible on the list of games, so it's easy to see which ones operate at times of day that are convenient to you.
A few different black jack options are offered – a basic game, European Black Jack, Double Exposure and Single Deck. Most of these are available in both regular and multihand versions.
Poker games on the site include Casino Hold 'Em, Pai Gow and Casino Stud.
Mini baccarat is available in the site's selection of table games.
The live roulette options are currently the only games with a live dealer available, although since their live offering is fairly new this may change as they continue to expand.
Scratchcards
The range of scratchcards on Multilotto is fairly small and basic, but they have a decent range of prices and prize levels, with potential winnings ranging from small amounts like 100 euros and going up to an impressive 250,000 euro jackpot on the Platinum Scratch game. They are straightforward to use, and if you're not sure what to do you can try them out for free before committing real money.
The Express series of scratchcards is designed specifically to display well in mobile, so if you're looking for a game to play on the go, it's a good choice.
Other Games
Multilotto also has a small selection of games not covered by any of these categories, mostly games with a more arcade-style feel, like underwater adventure The Gold of Poseidon and coin-collecting game Haunted House.
What's Missing?
Multilotto doesn't currently offer any bingo games or sports betting.
Jackpots
The lottery section of the site lists the lotteries with the current highest jackpots on the homepage, so it's easy to see what's available. At the time of writing, the Powerball Max jackpot was at the top of the list at £576,400,000. Mega Millions Max wasn't far off at £368,900,000, and Powerball was also in the hundreds of millions range. After that the numbers get a little smaller, but still very impressive. The site also lists world record lottery jackpots, with Powerball currently sitting in the top spot at $1.58 billion. Entering each lottery is very simple, and you can choose the number of lines and draws you'd like to play.
The casino section of the site has several different jackpot slot games. At the time of writing, the largest jackpot was at almost £10 million for Mega Moolah, a progressive five-reel video slot. On the other end of the scale, there are more modest jackpots in the region of around 1000 euros. Not all jackpot games are available in all countries.
Bonuses and Multilotto no deposit bonus 2019
Multilotto offer a variety of bonuses, with new offers appearing all the time. Welcome bonuses are often available, but in order not to leave out loyal customers, Multilotto regularly has rewards for existing members. Deposit bonuses multiply your initial deposit by a certain percentage, giving you more betting power for your money. The site also regularly gives away free spins for casino games. Any bonuses are applied immediately to your account, so there's no need to input any codes or follow any links to access them.
Like on most other casino sites, bonuses on Multilotto are subject to turnover requirements. Multilotto's requirement is that you play through 35 times the deposited sum before it can be withdrawn. It's also worth checking carefully through the rules of any bonus you receive, as if you make a mistake you may end up invalidating later winnings earned through that bonus. For example, some table games are not included in playthrough calculations, so you'll need to check carefully which games are eligible to be sure that you are actually playing through your bonus funds.
Depositing and Withdrawing Money
You can deposit money into your Multilotto account via your Dashboard.
At the moment, the site accepts 12 different payment methods. Funds can be deposited using Visa, Mastercard, Diners Club International and JCB cards. You can also deposit funds via bank transfer, or via specialist electronic payment services – Wirecard, Zimpler, Skrill, Entropay, Neteller, Paysafecard and Trustly.
Depending on what deposit method you choose, you may find that you need to pay a fee on transactions. Different types of deposits also have different processing times – bank transfers are generally the slowest and can take several days depending on the particular bank and the country in which your account is held.
You can also withdraw money from your Dashboard. When you choose to withdraw funds, Multilotto sends it back to the same card you used to deposit cash, in order to protect you from scams. If for some reason you need your funds sent to a different card, you need to obtain a letter from your card provider to explain why this is necessary, as well as other supporting documentation.
Some users have also encountered problems withdrawing their funds. Multilotto require clear scans or photos of several pieces of documentation before they can fully verify your account and pay out your winnings, and this somewhat complicated process seems to occasionally cause issues for users.
Affiliate Program
Multilotto's affiliate program offers Revenue Share, CPA and Hybrid reward model options, and no negative carry over. They can work with affiliates on bespoke offers tailored to a specific audience, and affiliates benefit from a dedicated account manager.
What Else Does Multilotto Offer?
Multilotto has a regularly updated news section which includes in-depth guides to the various lotteries offered on the site, stories about recent big wins, latest results, and the occasional quirky lottery-related story. It's well presented and well written, with some genuinely useful information.
Multilotto also features The Billionaire Shop, an online shopping experience designed for big lottery winners. If you win a huge jackpot on the site, this makes it easy to start browsing high-end cars and luxury goods, as well as helicopters, yachts, jets and residential properties. Although in practice most people using the site aren't likely to win in the range required to make use of this online store, it's still a nice extra feature. Between bets, it's fun to look through pages of castles, mansions and penthouses and imagine which one you would choose if your ship came in. The store is nicely laid out for casual browsing and also offers Buy Now options just in case you do make that big win.
Advantages of Multilotto
Multilotto offers a friendly and straightforward Casino School and Casino Guide to help players learn to navigate the site as well as learn the rules of the various games. This makes it a good place to get started for players who are new to the world of online casinos and would like a little extra support as they take their first steps. Almost all games are playable with "Play Money", another feature designed to help new players, or players trying out different games than usual, feel comfortable and confident before they actually part with any cash. That said, the range of games is also broad enough to entice more experienced players, and the wide variety in terms of styles and stakes means that there's something to play for any occasion.
The site is also convenient for users who enjoy both lottery betting and casino games and who don't want to go to the trouble of setting up lots of accounts with different sites. Since Multilotto offers good options for both, you only need a single login, and wins from one can be easily used for the other. It's also simple to switch between the lottery and casino sections of the site.
Their customer service team are generally fast to respond to issues and work hard to resolve them.
Disadvantages of Multilotto
Since Multilotto is primarily focused on lotteries, its range of casino games doesn't quite live up to what's on offer at some more casino-specific sites. If you're looking for a very wide range of casino games, particularly live games, Multilotto may not be for you, but if you're looking for a single, easy login to play both lotteries and some casino games, especially slots, it's a good choice.
Multilotto isn't ideal for UK users wanting to play live casino table games, and in fact UK visitors to the site will find that they do not have the same range of slots, scratchcards and other games as players from some other countries. If you're interested to start using Multilotto, it's worth having a look around first to ensure that the games you want to play are available in your country.
The slightly onerous process to withdraw funds, and the complex terms and conditions around bonuses, may frustrate some users.
Conclusion
Multilotto is a great choice if you're looking for international lottery betting and casino games all in one convenient package. Their lottery offering is the backbone of the site, but the casino options aren't too shabby – they have hundreds of slot games to choose from as well as a decent selection of scratchcards and table games, although the range is in some respects not quite as wide as you might expect from a site more specifically geared to players of casino games.
The site is attractive and easy to navigate, without too much visual clutter and free of annoying ads and pop-ups. The mobile version is well thought out and just as simple to use as the desktop version, with some games especially designed to play well on mobile so that users can play anywhere, when it's convenient for them. They also have an app which is similarly well-designed and which allows you to access many of the same features as the site, although not all.
Visit Now